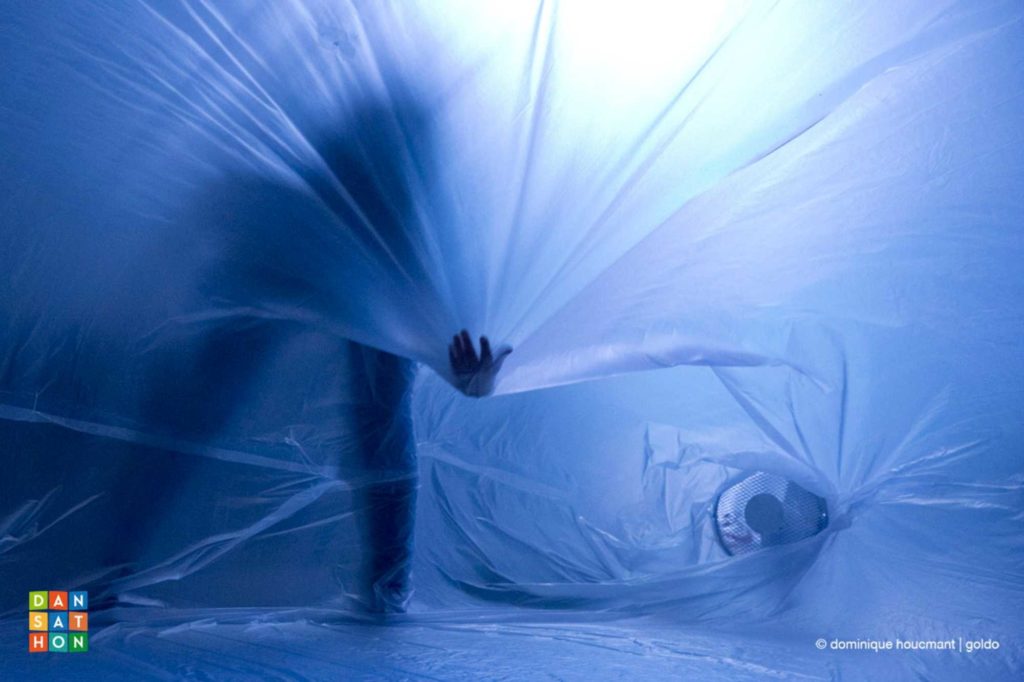 #DANSATHON20 - LIEGE
Introduction
Information and application
Covid19 updates
This 2nd edition, if the global health situation allows, will take place between 20–22 November 2020 in the Média Rives Studios of Radio-Télévision belge francophone , as part of the Théâtre de Liège's IMPACT Festival.
Open to dancers, choreographers, designers, web developers, students, start-ups and creators of any kind, the call for applications will be open from 16 June to 16 August 2020 via this Online form
This year, the participants will reflect on the question, "How can dance be part of a society in transition?". This is broken down into several themes, such as, for example, "High-tech vs low-tech", "Augmented humans vs diminished humans", "An energy-generating dance", "Green Dances" and "Social-distancing dancing".
In respect of prevailing sanitary rules, the forty-eight participants will have appropriate resources and technological tools, as well as access to a digital-manufacturing lab and spaces in which they can dance and create in the best possible conditions. Coaches and experts will also be available to support them throughout the creative process for the entirety of the Dansathon. A team of volunteers will provide assistance with IT, coordination, design, etc.
Over the course of these three days, the teams will have to produce a prototype dance performance, a short creative piece or an installation that bridges different approaches. These creations will be presented to the public and an international, multidisciplinary jury (artists, institutions, leading business figures, multimedia experts and journalists) on Sunday 22 November.
The 2020 Jury will include, among others:
Gilles Alvarez · Director of the Nemo Digital Arts in Paris
Es Devlin · Artist, production designer & costume designer (Unfortunately Es Devlin can no longer participate to this's year edition)
Claire Bardainne · Visual artist and Artistic Director of Adrien M & Claire B
Blanca Li · Choreographer
Wayne McGregor · Choreographer
Michèle Noiret · Choreographer
The BNP Paribas Foundation will award the winning project(s) with a grant (Prize Money: €20,000) that will enable them to pursue their creation. Through the support of the organising theatres, the winning project(s) will have access to a residency so they can develop their work in an appropriate space.
USEFUL INFORMATION FOR SELECTED CANDIDATES:
Accommodation and catering will be provided and paid by the organisation.
Travel return trip will be reimbursed by the organisation upon receipt(s) up to 250 euros.
As you know we are experiencing a pandemic crisis.
For now we decided to maintain the edition 2020 of the Dansathon.
In its structure, the Dansathon can be compared to a workshop residency and one of its fundamental aim is to find innovative ways of working together. This is why the theme selected for this year's edition is "imagine dance in a world of transition".
This event is an unique opportunity to identify and develop new approaches to dance through technology but also to be pioneers in the research and artistic creation during Covid19.
We are remaining alert and monitoring the situation and potential risks with each partner involved. We will carefully implement advises and apply regulations put in place by each governments at the time and we will take the necessary measures to ensure the safety of the candidates, staff and volunteers.
During the Dansathon, safety rules and regulations will be scrupulously applied. This includes wearing masks, regular disinfection of working areas, respect of social distancing, etc.
If you have any question, do not hesitate to contact us at info@dansathon.eu