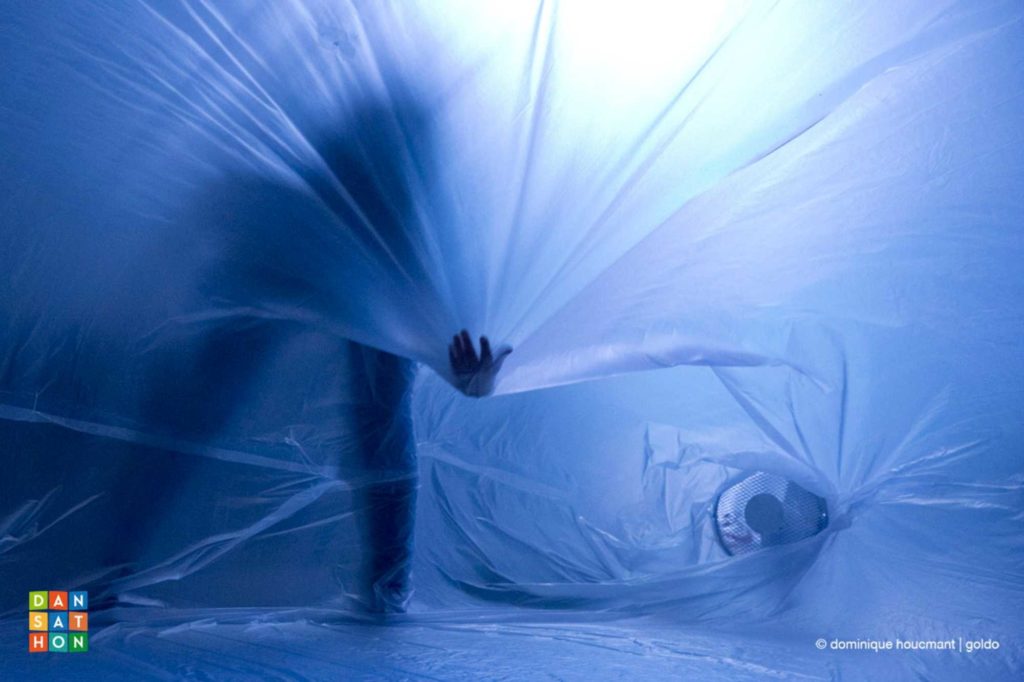 #DANSATHON21 - LIEGE
Introduction
Information and application
Producer's interview
This 2nd edition, if the global health situation allows, will take place between 19-21 November 2021 in the Média Rives Studios of Radio-Télévision belge francophone.
This year, the participants will reflect on the question, "How can dance be part of a society in transition?". This is broken down into several themes, such as, for example, "High-tech vs low-tech", "Augmented humans vs diminished humans", "An energy-generating dance", "Green Dances" and "Social-distancing dancing".
In respect of prevailing sanitary rules, the forty-eight participants will have appropriate resources and technological tools, as well as access to a digital-manufacturing lab and spaces in which they can dance and create in the best possible conditions. Coaches and experts will also be available to support them throughout the creative process for the entirety of the Dansathon. A team of volunteers will provide assistance with IT, coordination, design, etc.
Over the course of these three days, the teams will have to produce a prototype dance performance, a short creative piece or an installation that bridges different approaches. These creations will be presented to the public and an international, multidisciplinary jury (artists, institutions, leading business figures, multimedia experts and journalists) on Sunday 21 November.
The Jury will be confirmed soon.
The BNP Paribas Foundation will award the winning project(s) with a grant (Prize Money: €20,000) that will enable them to pursue their creation. Through the support of the organising theatres, the winning project(s) will have access to a residency so they can develop their work in an appropriate space.
USEFUL INFORMATION FOR SELECTED CANDIDATES:
Accommodation and catering will be provided and paid by the organisation.
Travel return trip will be reimbursed by the organisation upon receipt(s) up to 250 euros.
Florent Trioux
Producer at Sadler's Wells and Lead producer Dansathon London
Could you give us a bit of your background and what led you to Producing?
For some reasons, I knew I wanted to work in theatre from a young age. First as a PR person, but as soon as I discovered the role of Producer in my first internship at the Scene Nationale de Maubeuge, I knew this is was what I wanted to do with my life: working with artists and help them create their vision on stage.
I initially graduated with two degrees, one in Media & Culture, and the other one in Philosophy. Then I decided to move to the UK for a year to learn English, there I had my first experience as Producer Assistant in the Camden Fringe festival in London. At the end of the year, I was accepted into the very selective master's degree in Paris 1 – La Sorbonne, specialised in art administration and event management. As part of this vocational master's degree, I got an internship as a Producing Assistant with the renowned French Choreographer Olivier Dubois, who was appointed Artistic Director of Ballet du Nord – Centre Choregraphique National de Roubaix in January 2014. He asked me to join his permanent team in Roubaix as a Projects Producer. That's how my career started.
How did you become a Producer at Sadler's Wells?
After 2 years working at the Centre Choregraphique National de Roubaix with Olivier Dubois, I knew I wanted to return to the UK. I decided to make a bold move and gave my notice to Olivier (Dubois). I remember him asking me, what would I be doing in the UK, and my answer was simple: "I don't know what I will do right now, but one day I will work at Sadler's Wells".
I moved to London with no work and no money, and quickly got my first contract as Creative Administrator for the prestigious Cannes Lions Festival of Creativity, to work during the festival. Although I wanted to work in dance, I made the strategic move to apply for jobs in the dance industry. I got offered the role of Programme Administrator at London Studio Centre where I did above and beyond my duties, supporting the General Manager of the in-house dance companies Intoto and Images on top of my role. I wanted to gain as much experience as possible within the producing dance industry in London. Then I was offered the role of Admissions Manager at the prestigious London Contemporary Dance School, first as a maternity cover, which they offered to extend to a permanent position. I kindly declined because in the meantime Sadler's Wells had advertised the role of Producer Assistant. This was a step down compared to my role of Manager at LCDS but this is what I wanted. I started working at Sadler's Wells, which was my dream, and grew very quickly inside the company working on high profile productions and with renowned international choreographers. Finally, I got promoted to the role of Producer, and I am leading some major dance productions and tour management for the company for many high profile productions such as A Quiet Evening of Dance by William Forsythe and Message In A Bottle by Kate Prince and Sting.
Could you give us examples of some major productions you have been working on in the past few years and what made them special?
I want to start with Souls, by Olivier Dubois. More than a show, it was a human experience: we auditioned over 100 dancers at Ecole des Sables next to Dakar in Senegal and selected 6 dancers from 6 different countries in Africa. This show was challenging to produce and tour on many different points, including visa issues, but connecting with these different cultures and see how this production has changed the life of every single one of these dancers is inspiring. Most of them now live in Europe and have developed their own dance company, and I am thrilled to have been part of this journey with them.
Sutra by Sidi Larbi Cherkaoui which was created before I start working at Sadler's Wells, is also an amazing cultural experience. We tour the show with these 21 Shaolin Monks based in Zhengzhou, China. When working on this production it is a full immersion in another world but it's always a delight to remount this beautiful iconic production.
I am currently working on Message In A Bottle by Kate Prince and based on the music of Sting. Kate Prince is an Associate Artist at Sadler's Wells and the Artistic Director of Zoonation. It's the first time that I lead, produce, and manage a more "commercial" production and working closely with external partners like Universal Music UK is a fantastic learning experience. I had the chance to meet Sting in person a few times in rehearsal and for the performances. He really was touched by the show and the way Kate used his music to create a wonderful narrative.
We recently opened a brand new production called Neighbours, Choreographed by Brigel Gjoka and Rauf "RubberLegz" Yasit, in collaboration with William Forsythe. This is a piece that we developed from A Quiet Evening of Dance by William Forysthe (Production 2018). In this work both choreographers are exploring their cultural common grounds : Brigel is Albanian and Rauf has Kurdish roots. I paired them with a Turkish composer called Rusan Filiztek who quickly became essential to the show and tour with us as live musician.
Finally, one of the most special productions is A Quiet Evening of Dance by William Forsythe with 7 of his most trusted collaborators. Working alongside the Master was a dream come true. Being the witness of his creative mind in action is humbling and inspiring. I have toured the production for four years, the piece kept evolving and I hugely value the strong relationship I developed with every single one of these amazing performers. I remember a venue director on tour comparing the dancers to the "ferraris of the contemporary dance", and that analogy always stayed in my mind, because these artists are just something else indeed…
What particularly attracted you to work at Sadler's Wells ?
I discovered Sadler's Wells in 2011 when I first moved in the UK. I was already very interested in dance and went to see a lot of shows there. I thought this venue was beautiful and the work presented on stage was very high quality.
Then I came here as a visiting company, presenting Tragedie by Olivier Dubois in May 2014, which gave me the opportunity to learn a bit more from the inside. I realised that the company was this huge well-oiled machine, with hundreds of people dedicated to the companies, the staff was super friendly, and I felt home. I thought that the venue was fantastic, and I had the best experience. That's when I knew that somehow one day I would be working there. For the anecdote, I remember cheekily keeping the "visiting badge" that I was supposed to return at the end of the visit, but I kept it as a souvenir, and today, it's still framed in my room.
I kept connection with some of the staff and was popping-in then and there when I was visiting London. When I left France to relocate to London for the second time, my goal really was to come and work for this organisation, and after 2 years, I made it happen.
Working at Sadler's Wells offers me the huge opportunity to collaborate with internationally renowned artists and unique high-profile productions. There are very little number of companies in the world that produce this kind of work and a Sadler's Wells production has always been guarantee of quality, so I wanted to learn from that expertise, and I am extremely proud to be part of it now and contribute to that excellence for the dance world.
What is a Producer day-to-day life?
Not a single day looks the same, and that's what I love with my job. There is the exciting part when I get to be in studio with the artists and feed from the creative process, getting very important insights about the piece. Then one of my other favourite part is seeking and connecting with potential partners and co-producers at the start of a project to enable it to happen. It's always exciting to gather very different international partners around a same project and enable the vision of the artist(s) to happen through that cooperation.
Weirdly, I also enjoy very much the admin and budgeting work necessary around a new production or the production of a tour. There is actually a large amount of creative thinking required to deliver these projects within these areas. It's always very satisfying to overcome a challenge by thinking outside of the box or finding practical solutions, in discussion with artists and production managers.
What is your biggest achievement as a Producer?
I don't think there is a specific achievement. I believe all productions I work(ed) on, middle or large scales are unique and special and I am proud of every single one of them. I am particularly proud of having overcome all recent challenges, especially trying to successfully produce and tour these high-profile productions within both Brexit and covid19 contexts.
I am particularly proud to have recently produced the first Ball (voguing) at Sadler's Wells. It was very important for me to develop the relationship with the ballroom mainly composed of the LGBTQI+ Black community and invite them at Sadler's Wells. Sadler's Wells is one of the world's leading dance organisations, we're dedicated to dance in all its forms and invite audiences to experience all it has to offer and voguing is also a dance form, so it was essential for me to expose this art form on our stage and make the community feel like home. I wanted for our audience to discover that excellence and I cannot wait to continue the work not only as an ally but also as a member of the ballroom community.
What's your role in the Dansathon ?
I am the lead producer of the project for the London partner (Sadler's Wells). I work closely with my colleagues in Liege (Belgium) and Lyon (France) to coordinate and deliver the event.
Each partner also has a specific role, and with Sadler's Wells we are particularly looking after the website of the project, which is self-contained. I am managing the website and make sure it's updated on a regular basis.
In 2023 I will lead produce and manage the 3rd edition of the Dansathon hosted by Sadler's Wells in London, creating relevant partnerships with local communities and companies, and managing all the coordination on site (logistics, accommodations, catering) for all contestants, jury panel, and special guests.
How was the first Dansathon organised?
My colleagues started working on the Dansathon in early February 2018. The three partner teams met in Liège. They talked a lot to get to know each other and quickly agreed on the need for a tech shop [making technical/technological equipment available], the structure of each team – a dancer, a choreographer, a creative technologist, a technical manager, a designer, a coder and a facilitator – and the creation of situations and playgrounds [sort of like thematic working guidelines for each group]. But we had a lively debate about how a team would be built around a situation. The original proposal was physical voting (moving to the situation that interested us) but if two choreographers wanted the same situation, how could that be negotiated when it had been decided that there wouldn't be any duplicate roles in a group? Some people had the idea of asking those two members to be the most convincing but not everybody agreed with the idea of competition right from day one.
How was the Liege 2021 edition?
For this year's edition in Liege we received over 100 applications and with the other partners we selected 45 candidates that we divided in 7 teams.
The participants' reflections focused on the question «How can dance be part of a society in transition?», which was broken down into several themes, such as «High-tech vs. low-tech», «Augmented vs. diminished humans», «Energy-generating dance», «Green Dances» and «Social distancing dancing».
In compliance with health regulations, the 45 participants had access to adapted resources and technological tools with access to a "fablab" (digital manufacturing laboratory), and spaces to dance and create in the best conditions. Mentors and experts were also present throughout the Dansathon to support them in their creative process. A team of volunteers helped with IT support, coordination, design, etc.
At the end of these 3 days, the teams presented a prototype of a dance performance, a short creation, or an installation, at the crossroads of different practices. These creations were presented to a multidisciplinary international jury (artists, institutions, business leaders, transmedia experts, journalists) on Sunday 21 November.
At the end we selected 2 winners and Foundation BNP Paribas awarded 10 000 euros to each group to develop their concept.
Day 1 : https://youtu.be/Nmq7_DE_n_g
Day 2 : https://youtu.be/GivXoUj8h7U
Day 3 : https://youtu.be/1lPj8A8EBlo
How are you supporting the winning team(s)?
The BNP Paribas Foundation originated this project and, right from the start, offered to award a grant to implement the prototype. This year, they awarded 2 groups with 10 000 euros each to develop the prototype.
I met with one of the groups based in London, offered them support for diverse funding applications and I offered them free studios for residencies and auditions to develop their project. The prototype is currently still in development.
I am also still in touch with the winning team of the 2018 edition (the first edition). We do regular catch up and follow their journey.
Florent Trioux is a very dynamic, reliable, and supportive producer from day one until now, four years later. His professionalism and efficiency helped us a lot to keep our goals real and clear and make things happen. As Florent is passionate about art and especially dance, he is incredibly open-minded and enthusiastic about new approaches and challenges. Lara Buffard, Creative Producer, Digital Umbilical. (Winning project 2018)